Mallow, Cork Website Design & Web Marketing Consultancy
Welcome to Sixmile Design Consultancy based in Mallow, Cork. The studio offers a range of creative services including website design, graphic design, branding, search-engine optimisation and digital marketing. Sixmile Design has decades of experience designing, maintaining & optimising websites to be found online as well as countless marketing and design projects.
The Sixmile Studio specialises in responsive website design services and development and in particular WordPress development. Responsive web design is about creating web pages that look good on all devices, whether desktop, laptop, tablet or smartphone while wordPress is a powerful Web Builder and content management system allowing for easy website updates. Ongoing website maintenance is also undertaken allowing for the continual smooth running of the site through maintenance and security software updates.
Overall, Sixmile Design will brand, market and promote your business creating eye-catching graphics and great looking website design giving you the ultimate creative solution online and offline. Having worked in the design industry for over 30 years Sixmile has helped promote businesses in Mallow, Munster, Cork City, Dublin and UK and beyond with a mix of creativity and marketing expertise.
As mentioned Sixmile Design is in Mallow, Cork the studio has clients all over the world including Ireland, UK and further shores so whether it's web design, branding or graphic design projects why not give the studio a call on +353 (0)86 3511769, email nigel@sixmile.info or fill out the form on the contact page. Sixmile Design will get back to you with a very competitive quote for your web design, graphic design and marketing projects…
Website Design and Web Building...
Sixmile Design has been operating in Edinburgh, Co Cork and Ireland in general, for over the past 25 years. Within this time the studio has built all types of responsive websites for all types of clients. Websites that look good on all types of platforms giving you, the client, an eye-catching digital presence for your customers. Sixmile can help with your web build, maintaining your digital presence whether through site maintenance or oning Search Engine Optimisation and general targeted web and digital marketing. This includes getting you on Google Business, Google Maps, Google Console, online directories and much more…
Great eye-catching professional graphic design is crucial to any business wanting to be taken seriously. Sixmile prides itself on providing eye-catching and attractive creative solutions whether for marketing material or the website. Creating eye-catching solutions with consistency across all the marketing applications, whether offline, online, web or print.
In this day and age it's so important to have a website that not only looks great but views well across all devices. Sixmile caters for all types of web design and development including WordPress content managed systems and responsive websites optimised for the mobile platform. It's easy to update a content managed website from your computer.
The logo is a crucial part of a company's identity. Great looking logo design applied consistently across all marketing material and website is of major importance in creating a strong and successful branding and identity. Sixmile excels in logo design inception and creation providing fresh, unique logo and identity solutions for your business solution.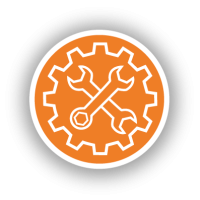 Website Maintenance and
Online Updates
Website maintenance and keeping current is crucial to any online strategy and will help keep the site current and indexed by Google. An up to date website will help draw interest from potential customers and drive more revenue.
Your site should evolve over time to continue to serve your changing client, member or customer base, you should be keeping up with software and security updates and updating your site. In turn helping speed up your site. Website maintenance is key to this. Whether you're a small or large business the need for effective ongoing website maintenance will always be of paramount importance. Whatever the size or scale of the company, Sixmile can manage and maintain your website, keeping it updated, secure and optimised leaving you to get on with the day-to-day running of your business and saving you time.
Maintaining a website also invloves keeping it current with updated fresh content. In other words keeping the site relevant; this is key to a good business online strategy. This could also mean a possible website redesign. If your website looks or feels outdated, your potential clients will turn away and not look back. A redesigned and rebuilt website keeping pace with new web trends and technology shifts is a good business strategy.
Website SEO - Search Engine Optimisation
Along with website design Sixmile Design offers Search Engine Optimisation services. Search Engine Optimisation (SEO) is the practice of improving a website's visibility for search engines by optimising the pages, content and coding of the website.
This process improves relevance relating to specific keywords and phrases used in a search thus making the website more accessible to Google. It's one thing to have a good looking website but it's another thing to be found. Successful ongoing online SEO and marketing is crucial if your website is going to be found. 
Sixmile provides ongoing marketing advice and SEO work to clients with the clear aim of driving more traffic to the website while helping the client understand the ins and outs of gaining a better Search Engine Ranking (Search Engine Optimisation). Digital marketing comes in all shapes and forms from getting onto Google Business and Google Maps to updating sites with ongoing information while updating the Social Networks. Sixmile can help your business be found generating more traffic and more revenue for you demystifying the sometimes confusing world of Search Engine Optimisation and online marketing. This is ongoing work taking time and effort which will help drive more traffic to the site. Your website is an investment, make sure it pays off!
I cannot recommend Sixmile Design enough. We have worked with them for nearly ten years and they designed our logo, website, posters, flyers and pull ups stands. Nigel also did the illustrations for our Childrens Book 'Feathers in my Brain'. Nigel responds really quickly and works with you until you're 100% happy with the finished product.
Online & Offline Marketing Solutions
Web Redesign, Maintenance & Updates
Web maintenance and updating is key to any marketing plan. Ideally the website should be updated on a continual basis with not only new content but general ongoing maintenance as well. Combining both saves time and money helping speed up functionality and keeping secure.
Search Engine Optimisation is Key - Be Found!
Search Engine Optimisation and Digital Marketing is ongoing and will help promote your website and business. It's important for all businesses, large or small, to invest some kind of regular effort into their online marketing strategies boosting their SEO.
Sixmile Design, Mallow, Cork
Latest Web Design & Branding Projects